Orange County Business Lawyer – Valerie L. Kramer
Orange County business lawyer Valerie Kramer, is here to lend an experienced ear. When a legal problem arises involving a business dispute, partnership/shareholder problem, lawsuit, or uncollected debt, Valerie can help! Should a new business opportunity presents itself, Valerie would love to help you address the legal details and protect your rights.
30-Year Experienced Orange County business lawyer offers
FREE Phone Consultation
Orange County business lawyer, Valerie Kramer, welcome's legal questions* –
by phone for no charge. Whatever the business dilemma or business opportunity you are facing, Valerie has 30-years experience working for 1,000's of business owners. Moreover, Valerie's business owners and corporate executives are local to Orange County, California. Because of her vast experience, you will receive expert, practical legal advice bolstered by 1,000's of cases and clients. You will benefit greatly from the wisdom and past experiences a local Orange County business lawyer can share with you. At your disposal is an Orange County business lawyer whose past business circumstances are similar –OR– exactly like yours!
Call Valerie L. Kramer at (888) 866-3620
Valerie obviously cannot share individual and corporate names with you. However, she can share with you the challenges past clients faced, and outcomes of countless similar cases. This level of experience with similar cases is the value of working with a experienced Orange County business lawyer. There are very few competent and honest business lawyers in Orange County with 3-decades of experience Valerie brings to you.
Thirty (30) Years Experience!
Decades of legal experience by being the legal representative for countless Orange County business clients – is a huge advantage for you. Valerie can share years of similar cases, parallels, lessons-learned, and actual outcomes with you. In essence, she can share how those lessons might dovetail into your unique circumstances for educated decision making. How did a backroom negotiation go? How did a particular superior court judge react to this or that defense or claim? Does serving a civil lawsuit really collect a big debt faster? Ms. Kramer, as an Orange County business lawyer, has endless stories from past cases she is able to call upon. Unfortunately, lesser-experienced attorneys, no fault of their own because of their short time in legal practice, simply cannot.
Free Initial Phone Consultation – Get Your Question Answered!
Free Phone Consultation with Orange County business lawyer Valerie Kramer. – If time allows when you call, Valerie will make every effort to take your call immediately. She can share with your her legal advice, what kind of case you might have, or strength of case an opponent might have against you. She can discuss your legal rights in a money matter, your rights and remedies in a purchase agreement or commercial lease, or any other issue on your mind. If Valerie happens to be with a client or in court, the staffer who takes your call is tasked to schedule a quick return call from Valerie to you. That return call will usually take place in mere minutes: just enough time for you to sit down in a comfortable chair or close the door for privacy. In most cases, never more than an hour before the return call. Ms. Kramer, as her clients will attest, makes every attempt to be accessible and is here to help…
When you need legal advice; to brainstorm your legal issue – you can benefit by reaching out to an experienced Orange County business lawyer. Moreover, you share your story with in confidence with a skilled and savvy local business lawyer. Valerie Kramer has been helping Orange County professionals and business people find the solutions, answers and legal representation they need when they need it. Call Valerie for a NO charge telephone conversation now at (888) 866-3620. If she is with a client, she will usually be able to call you back for a private phone conversation within the hour. This might be the exact phone call you need right now to quell your anxiety or guide you in direction you had not previously considered. You'll be glad you called.
Call Me – FREE Phone Consultation.
(888) 866-3620
Let's talk through your issue or opportunity.
Valerie Kramer is your Orange County Business Lawyer
I am honored to serve
individuals, professionals and business owners.
Valerie L. Kramer —
Affordable Legal Advice & Legal Representation
I am Valerie L. Kramer, a 30-year experienced Orange County business attorney as well as an Orange County local resident. I provide honest and frank advice. A am particularly concerned with providing top-drawer legal services while keeping my client's pocketbook in center focus.
I'm an experienced Orange County business lawyer who can help you with: incorporations, drafting and reviewing your business contracts, contract negotiation, buying a business, business merger and acquisitions, debt collection, preventing problems with employees, or lawsuits. I am particularly handy litigating disputes with clients, vendors, employees or others making your life miserable.
---
Business Disputes – Business Lawsuits – Backroom & Courtroom Litigation
Business Litigation can be Emotionally and Economically Devastating
Business Litigation. A lawsuit can be a business killer. Besides zapping your forward progress and growth plans, a lawsuit cane be emotionally and economically devastating. If you are faced with a lawsuit or dispute, it is vital to consult a business litigation attorney promptly. Orange County business lawyer, Valerie Kramer, knows how to resolve such matters in a favorable and cost-effective manner. Once brought to her attention, she and her staff reviews the facts and law pertinent to your case. Valerie will then explore the merits of your position and possible best and worse-case exposures. That research allows Valerie to share possible fees and costs so that you can make an educated decision how to move forward. Fortunately, most business litigation cases are ultimately settled long before any courtroom trial. This is because you or your opponent decides to avoid the uncertainty, financial costs, and emotional drain. Another reason to resolve a dispute early is the disruption to business from extended litigation. MORE…
Served a Lawsuit? —
Call Me — I'm an Experienced Litigator
If you've been served a summons (a lawsuit) – you have 30-days to file an answer. You will need time to review the claims in the lawsuit. These claims must be carefully studied so you can answer each claim smartly with a strategy. A carefully-crafted, savvy answer can make all the difference in the outcome. So remember: the clock is running. Please don't put off focusing your attention on this legal dilemma. Instead, call Orange County business lawyer, Valerie Kramer, at (888) 866-3620 right now. She will take the time to talk over the legal summons you are looking at. She can help you. Please… do NOT procrastinate.
If, on the other hand, it is time to sue someone –
or some business, Valerie can give you expert counsel! Valerie can advise you if suing someone is really necessary or just your immediate gut reaction. Valerie might suggest a tactic less expensive than a lawsuit to obtain the outcome you are seeking.
MORE ABOUT Business Litigation
Filing a Lawsuit Can Get Someone's Attention! – If you've been harmed, taken advantage of, or you are being flagrantly ignored as a impotent nuisance you can turn the tables! If you are in "the right," filing a lawsuit and serving a summons can be very effective.
A lawsuit is sometimes BOTH a business and legal strategy – to get someones immediate and focused attention. Serving a lawsuit is taking the necessary legal steps to protect your interests and also focuses your opponent's attention. Filing suit may be the legal hammer that will result in you getting the fast and satisfactory solution that you seek. Lawsuits as a business "strategy" demonstrates your commitment to see a dispute through. Filing suit will often result in a satisfactory settlement without need to ever step foot in a courtroom. On the other hand, courtroom litigation is sometimes necessary to protect and enforce your rights in business matters.
---
Orange County Debt Collection Attorney —
I Don't Mess Around!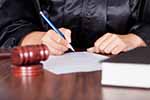 Commercial and Business Debt Collection: If you as a business owner, contractor, web designer, architect or other professional are owed money Valerie can help! When you are not being paid, a lawyer can be MORE EFFECTIVE than sending redundant emails and certified letters! Sometimes, it may only take a demand letter from your Orange County business lawyer, Valerie Kramer, to be paid! A lawyer letter will often move your payment request to the top of your debtor's mind.
If a demand letter from Debt Collection attorney Valerie Kramer –
does not get your debtor's attention, she will immediately follow up by filing a lawsuit. Filing a civil lawsuit results in a process server handing your debtor the lawsuit summons. That one embarrassing life-lesson often gets you paid!
You'd be surprised how many formerly unresponsive people suddenly become attentive to you! Your civil lawsuit is powerful when compared to the others your debtor owes! While the ineffective "others" email and call, your civil lawsuit WINS the argument for their immediate attention: hands down!
A Civil lawsuit drafted by Orange County business lawyer, Valerie Kramer, will start a countdown clock. Your debtor has only 30-days to file an answer to the court or lose the debt collection case by default. That means that your debtor has to allocate MORE money and time to search for their own lawyer! The day the lawsuit is personally served to the person who owes you money, Valerie will often get a call! That will be your debtor pleading with Valerie to make full payment or work out a repayment plan.
This is our actual experience over years of debt collection. We can almost predict it to the day. Once served the lawsuit, your debtor will offer to drive over to Valerie's office to pay or make payment arrangements. If the payment is not the entire amount, Valerie will consider a repayment plan (that is approved by you). If the re-payment plan meets Valerie's minimum set of requirements to protect you, she will stop the civil lawsuit. Doin that will save both you and your debtor money, and you will not lose your position of power by stopping the lawsuit either. Valerie can explain why during your phone call or sit down meeting.
Minimum Collection Case of $25,000
MINIMUM COLLECTION CASES OF $25,000 – We are very sorry if your debt is less than $25,000 – we'd love to help you, but we cannot. As it turns out, any debts less than about $25,000 are just not good candidates to hire an attorney to collect for you.
If you are owed $25,000 or more – an Orange County debt collection lawyer is so MUCH MORE EFFECTIVE than a "collection agency." When collection agencies' ineffective calls and letters fail in collecting a debt, they then hire a lawyer, like me, to file a collection lawsuit. Cut out the middleman and go directly to a debt collection lawyer right away!
Yes we can help businesses with multiple SLOW-PAY or NO-PAY – accounts receivable. We are certainly able to represent business owners who have multiple accounts receivables that, when added together, exceed $25,000, with affordable legal collection services on an on-going, as-needed basis. But, please consider the average sizes of the uncollected money owed to you. If you have 100 clients who owe you $299 each, this would NOT be a workable circumstance for an attorney. Better you assign an employee to use the Small Claims court system to work these cases.
MY SECRET FORMULA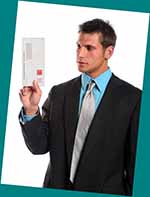 FIRST – Orange County debt collection lawyer, Valerie Kramer, sends a Law Office Demand Letter. Never procrastinate when owed money. As the months pass, the chances of collecting what is owed you drops dramatically. By calling Orange County business lawyer, Valerie Kramer, at (888) 866-3620 you can put decades of expert debt collection success to work for you. Often, all that is needed is an inexpensive and effective legal demand letter from your new debt collection lawyer.
SECOND – Valerie will File Lawsuit & Process Server Will Serve your Debtor. If your Orange County business lawyer's demand letter is ignored — with your direction and permission — Valerie will immediately file a lawsuit. Your debtor will be served the lawsuit summons by a process server. Once served with court documents, those who foolishly assumed that your lawyer's demand letter was some sort of a bluff learn otherwise. You debtor is often quick to call to inquire about making immediate payment arrangements to avoid having to hire their own attorney. By calling to make payment arrangements, we can halt the lawsuit and the debtor need not hire an attorney to answer the summons. That saves your debtor serious money that is better used to pay you what he or she owes you!
THIRD – You are good steward of your business & finances. You are owed money! "Business 101" teaches professional business people that it is good business to attempt to collect what was earned! Filing the lawsuit, if demand letter ignored, is just good business. As a professional person or business owner, you need to get the FULL attention of your debtor. The lawsuit and process server handing the summons over, emphasizes that you are the squeaky wheel. In all things in life, the squeaky wheel is usually addressed before all others.
Hire Orange County Debt Collection Lawyer, Valerie Kramer, to Collect Your Money
---
Collecting Orange County Court Judgments – Judgment Enforcement
You won in court. Awarded a money judgment. CASE CLOSED! – Wait, not so fast… The inexperienced might think when a judgment is awarded you've won. You did. That does not mean the money will show up in the mail. In many ways, winning or being awarded a money judgment is sometimes just the beginning. Converting that court document into cash might require an Orange County Business lawyer to lend you a helping hand. If you have a sizeable money judgment and need help, give Orange County debt collection lawyer, Valerie Kramer, a call. Call Valerie at (888) 866-3620. MORE ABOUT: Judgment Enforcement & Collection
ATTORNEY FEES ARE SOMETIMES COLLECTABLE:
If your judgment is less than our $25K minimum, it MIGHT make sense to have debt collection attorney Valerie Kramer collect your debt. Why? Generally, attorney fees are not recoverable when enforcing a California money judgment. HOWEVER! Many court-awarded judgments INCLUDE attorney fees in the judgment award! When a plaintiff obtains a judgment on a contract or promissory note, the plaintiffs' rights are merged into the judgment. That means that that attorney fees incurred in enforcing a judgment are included as a collectible cost. [CCP §685.040; CCP §1033.5(a)(10)(A)]
If you're confused if attorney fees are included in your judgment, give Orange County business lawyer, Valerie Kramer, a no-cost call. She can help you understand the terms of your judgment. She can advise you if collection of the costs of pursuing your debtor, in addition to the base judgment, is possible. That said, we can never promise a rosy outcome in any collection case. However, until we try, we never know if any particular judgment is truly collectible or not.
Post Judgment Collection Enforcement: If you are sitting on a court award or judgment and need help collecting your money, call Valerie at (888) 866-3620. Valerie offers a no-cost phone consultation to discuss your options and her 'take' on the potential success of collection.
---
Business Contracts/Agreements – Drafted & Reviewed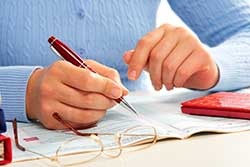 Business contracts and agreements: are a necessary component of every successful business. If you are new to the business world, think about it. Business contracts are part of every aspect of daily business. Consider an auto service center, a stereo installation shop, or an air conditioning repair and installation business. Each of these common businesses could be protected by a carefully-drafted sales contract. Even businesses that use hand written sales orders written on the shop floor or at the customers' home or business need legal protection!
By hiring Orange County business lawyer, Valerie Kramer, you can review and draft your CORE daily business documents. Valerie can then help protect you from the off the shelf documents that are your Achilles Heel. Fix that vulnerability and make your core documents more of a bullet-proof shield. A few hours of Valeries time and you can protect yourself from frivolous or even valid legal challenges!
Properly drafted business forms can protect your business.
They can protect you from every day situations that can bankrupt a businesses unexpectedly out of left field. Seeing these business owners slouch into my office is so sad to witness. Take my advice! By deciding to operate your day to day business operation using clear and concise business forms and contracts that are CAREFULLY WRITTEN is huge! Custom-drafted core documents can protect you and your business and is a LEGAL advantage when compared to you or a like business using a default Freshbooks, Quickbooks, Office Depot, or Staples off-the-shelf standard form.
You and your business has default and unique vulnerabilities! The absolute best prevention to protect you legally from misunderstandings and costly litigation is to call me. Tell me what you do. We can do some FREE brainstorming on the phone. Then, if it makes sense to you, allow me to draft your new "fine print" that can be something as simple as a a number of paragraphs that you have your Quickbooks or Freshbooks software print on your sales contract, work order, employment agreement, or other common document from your printer or that is emailed to a client as an estimate or sales invoice. Let's review those documents that your consider to be your CORE documents.
Every Business Will Be Sued —
Trust Me – It is WHEN, not IF!
Remember! It is never IF – but WHEN that horrible lawsuit will come your way. Come by or send over to my office your documents FIRST and I predict that one day you will giggle a happy giggle when our time together saves your toosh from some frivolous lawsuit thug. Besides the regular "nutty client" all businesses run into, there are those who make a devious living by targeting innocent business owners with frivolous lawsuits. They make a fortune abusing the court system. MORE ABOUT: Business Contracts and Agreements
---
Flat Fee Entity Formation / Fixed Fee Incorporation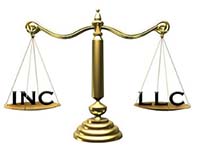 Choosing the appropriate business entity (a California Corporation, S-Corporation, or LLC) to form your business is critical! It is one of the first important business decision most business owners consider. Hiring the right flat fee entity formation lawyer is also invaluable. You might give me consideration. A offer flat, fixed fees, and I CARE that you stay out of trouble after your business is incorporated!
Business Formation: Corporation (INC.), S-Corporation or LLC
Choosing the best and most appropriate entity – for your existing or new business is critical. Many people start a business as a hobby that grows out of their home or garage. Others others operate for months or years as a sole proprietor in their own name until they realize they are at great risk. Incorporating your new endeavor or transforming your sole proprietorship into a separate entity is a savvy move. By incorporating, you will limit your liability and protect yourself. Your liability will be limited to the business's total assets. That protects your home, your family, and your personal assets from everyday legal disasters. Creating a legal entity also makes it easier to obtain credit for your business, attract investors, or form a profitable partnership. We offer some Flat Fee packages for most entity formations.
Is your Corporate or LLC Entity Name available? – Call Valerie L. Kramer at (888) 866-3620. Discuss your business formation ideas and check name availability of your proposed corporation or LLC.
MORE ABOUT: Flat Fee Entity Formation
---
Contract & Lease Review and Negotiations
Contract Negotiations: Initial negotiation of a significant business transaction can be the linchpin for an effective and workable agreement that will turn out well. Typical contracts that should be carefully negotiated might be:
Commercial lease,
Ground lease,
Equipment purchase/lease contract,
Fleet purchase/lease contract,
Reseller's contract, or
Franchise agreement.
Many professionals and new business owners assume – incorrectly – that because they are handed a "pre-printed" contract or lease form when leasing a retail space, office or industrial building, that there can be no negotiation.
NOT SO! The person handing you a pre-printed lease/contract is as excited as you are!) They WILL negotiate the details. More importantly for you right now, is that those preprinted "standard forms" are not really standard! They are likely make to look like a Staples or Office Depot form, when in reality, their lawyer drafted that form to protect then AT YOUR EXPENSE! Those clever fine print details can and will bankrupt you if something goes wrong. If you are here and about to "click away" from this advice, you might one day wish you had picked up the phone and at minimum, told me what form you are about to sign. considered now.
If the contract or lease is about lots of money or lots of months of obligations – you owe it to yourself to move cautiously. You should brainstorm all the potential opportunities and pitfalls. The fees it requires to to a couple hours brainstorming as a team might bring you great future profit, or prevent you from being harmed by writing specific language to protect you. The most desperate business people who contact us, who are now in a deep and scary legal mess, would love to tell you just how much they wish they could role back the clock to have a proper protecting documents! We negotiate contracts virtually weekly and comprehend the value and importance of aggressive representation in order to secure the best results for each of our clients.
---
Business Sales, Mergers and Acquisitions
Business Sales, Mergers and Acquisitions:
We have decades of experience in the area of business sales, mergers and acquisitions. We can assist you with the sale, purchase or merger of the business you are interested in. We routinely represent both sellers and buyers, which provides us with the skills and experience necessary to better negotiate and structure a transaction for our clients.
MORE ABOUT: Buying Selling a Busines
---
Business Dissolution & Exit Strategies
Business Dissolution: Business dissolution, like business formation, needs to be handled carefully. Unfortunately many people do not do all the required steps. The reason to properly dissolve your business is to avoid future liability including surprise tax bills years later that were totally unnecessary. We treat business dissolutions with the same attention to detail as we do business formation.Exit Strategies: It's not enough to build a business that is making money; you have to make sure you have an exit strategy which is a way to get the money back out because of the economy, illness, or plain old retirement. Exit strategies may include: (1) Let the business peter out & sell off the assets, (s) Selling your shares or interest, (3) Liquidation, (4) Go public, (5) Merge, (6) Be acquired, or (7) Sell.
---
Experienced Business Attorney To Help You Grow Your Business
Having an experienced Orange County business lawyer on your team, who can partner with you, will go a long way to protect you and your business from common legal claims that come with owning a business. Valerie L. Kramer has 30 years of local legal experience in most aspects of business law. From sales contracts to intellectual property; from employment law to complex litigation, she is here to provide you the highest quality of affordable legal services with integrity and diligence. About: Valerie L. Kramer
Call Us for a Free Phone or Office Consultation
Call Orange County Business Lawyers for a free phone or office consultation. We are dedicated to helping Orange County clients make educated, informed decisions about their business endeavors, opportunities and troubles that invariably come knocking —at some point— on every business owner's doors. Call us at (888) 866-3620 for an on the spot phone consultation or an appointment to confidentially review your situation.
Our firm handles business and corporate legal and litigation matters including:
Entity Formation (Inc., LLC, etc.)
Buying/Selling a Business
Business Contract Drafting & Review
Contract Negotiations
Mergers and Acquisitions
Exit Strategies
Business Dissolution
Contract Disputes
Breach of Contract
Business Disputes
Shareholder Disputes
Partnership Disputes
Business Litigation
Commercial Debt Collection
Judgment Enforcement
Business Defamation
Malicious Filing of Lawsuit
Officer / Director Liability
Non-Disclosure Disputes
Trade Secrets Disputes
Licensing Disputes
Trademark & Copyright Infringement
Intellectual Property Litigation
Unfair Competition
Commercial Defamation
Misuse of Confidential Information
Breach of Fiduciary Duty
---
Real Estate Lawyers: We are also have 3 experienced real estate lawyers and offer real estate legal services involving real estate in Orange County, San Diego and beyond. VISIT OUR REAL ESTATE WEBSITE
---
Serving individuals, entrepreneurs, designers, artists, contractors, and business owners in Orange County CA including:
Cities Served: Aliso Viejo, Anaheim, Brea, Buena Park, Costa Mesa, Cypress, Dana Point, Fountain Valley, Fullerton, Garden Grove, Huntington Beach, Irvine, La Habra, La Palma, Laguna Beach, Laguna Hills, Laguna Niguel, Laguna Woods, Lake Forest, Los Alamitos, Mission Viejo, Newport Beach, Orange, Placentia, Rancho Santa Margarita, San Clemente, San Juan Capistrano, Santa Ana, Seal Beach, Stanton, Tustin, Villa Park, Westminster, Yorba Linda
** Within the boundaries of general questions, in good taste, and Ms. Kramer's sole discretion as what questions to field and answer.